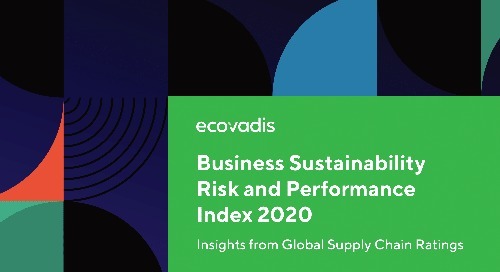 This fourth edition of the Sustainability Risk and Performance Index: Insights from Global Supply Chain Ratings illustrates the sustainability performance of over 40,000 companies worldwide rated by EcoVadis across 2015-2019.

The report covers:

Analysis of results by sustainability theme (Environment, Labor and Human Rights, Ethics and Sustainable Procurement.

Performance by industry: We group the ISIC business activity categories of companies we rate into nine "Industry Divisions" and compare by company size (small and medium-sized vs. large).

Comparison of scores across five regions: Europe, North America, Latin America, China, Africa/Middle East/Asia (excluding China).

The report also takes a closer look at the Environment theme with a special deep-dive into greenhouse gas emissions and carbon reporting.
About the Author

Follow on Twitter Follow on Linkedin Visit Website More Content by EcoVadis ‏‏‎